Fall is a great time to plan fun things to do. As the weather changes and the holidays approach, it can be the perfect time to pick a way to make the most of the coming season of fun.
You can easily plan a scavenger hunt that will allow you and your friends and family, your students, or your coworkers the chance to reconnect and work on team-building exercises of various kinds.
Scavenger hunts are challenging and fun, and they can allow everyone working on a team to learn more about one another while also developing their own teamwork skills.
What is a Fall Scavenger Hunt?
A fall scavenger hunt consists of fall or autumn-based items that participants need to seek out to accumulate the most items and points and/or complete the entire list. People can snap photos and videos of items in addition to answering fun trivia and riddles along the way.
A fall scavenger hunt is a great way to enjoy the season before Halloween, Thanksgiving, and all the other major holidays take over. What could be better than enjoying the changing colors of the leaves on the trees, the brisk mornings, and the arrival of pumpkin-themed food and drink?
How to do a Fall-Themed Scavenger Hunt
Fall-themed scavenger hunts are easy to plan.
You just need to create the right list of fall-themed scavenger-hunting clues and riddles and decide where you want to have your teams go for each clue. This might be around town, inside the office, or your hunt can even take place in your own home.
There is no wrong way to plan this kind of fun activity, and you will have a lot of ease if you decide to let Scavify help you with your work!
Fall Scavenger Hunt Clues and Ideas
1.
Autumn
Nature Walk
Nature walks at this time of year can be very beautiful. Have your teams take pictures of fall leaves, animals who have not left for the winter, or anything else that makes you think of the season in your area!
2.
Dress Up For Fall
Send your teams out to look for boots, hats, jackets, scarves, and more! Have them dress up and take a picture to complete the challenge!
3.
Downtown
Picture Hunt
Give your teams a list that is just pictured, and have them find the items that are on the sheet. You might want to send your teams around town to make this game a real challenge!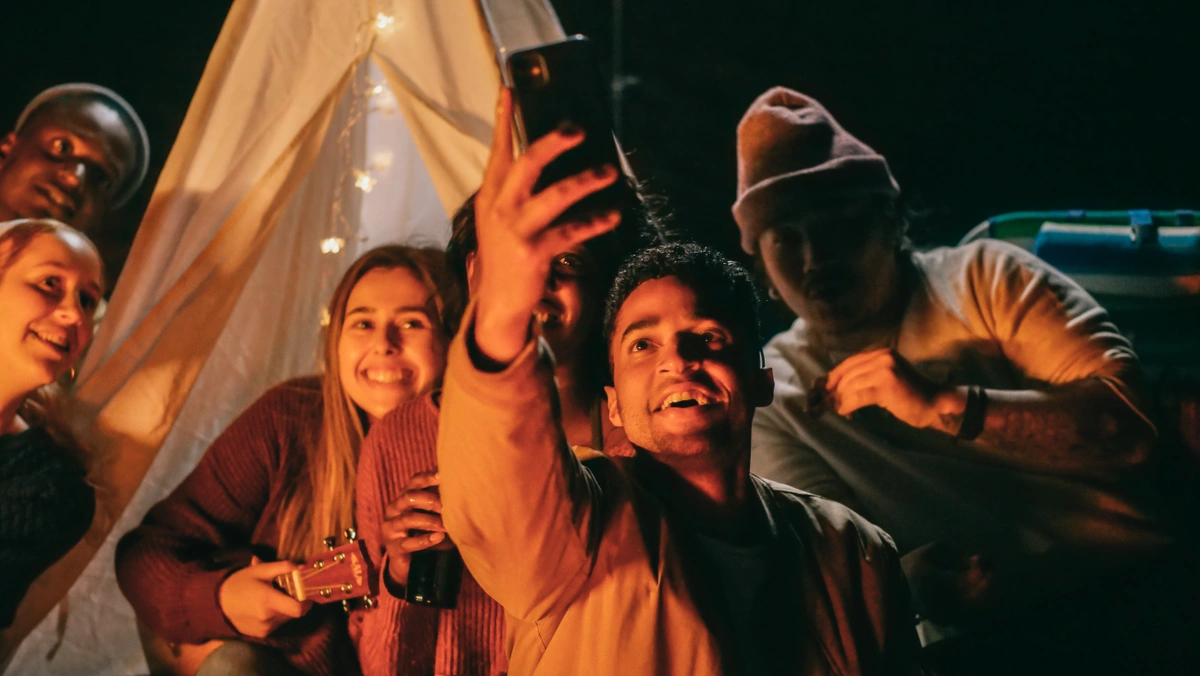 If money grew on trees, what would everyone's favorite holiday be? – Fall

What does a pumpkin do when it falls? – squash

A family of leaves is trying to change a lightbulb. A squirrel walks by and asks why they can't change the lightbulb. The leaves said, "because we keep _____." – falling

What asks but never answers? – an owl

What falls but never breaks? – nightfall

You can ride me where you want to go. I have wheels two and a cute basket too! – a bike

How do you fix a flat pumpkin? - With a pumpkin patch!

How does an elephant get out of a tree? - It sits on a leaf and waits for fall.

What is a tree's least favorite month? – Sep-timber

What is a scarecrow's favorite fruit? – straw-berries
Fall Outdoor Scavenger Hunt
There are many ways to plan a fall scavenger hunt. You might want to let your teams race for all the items on the list during a perfect fall day, like a hot coffee or tea, some pretty fall leaves, and scarves and jackets.
Alternatively or additionally, you could choose to have your teams check in at locations all around town that offer fall-themed food, drink, or experiences.
You can even send teams on a fall-themed nature walk to let them appreciate the beauty of the season.
No matter which of these kinds of fall scavenger hunt you plan, you will want to be sure that you have the right clues and riddles on hand to make the adventure really unique and special. Riddles can make the hunt more challenging, while clues can be easier and more straightforward.
Fall Scavenger Hunt Riddles
I don't have a trunk or fruit, but I have many branches. – a bank

On my own or in a group, I help things to grow. Add soil and water to my hard shell, and don't forget to sow! – flower pot

To see the stars and enjoy the fresh air, you sleep in here with warm outerwear. – a tent

You let people in when you hear this bell. - doorbell

Turn me on when it's dark at night. I can send away the dark with the light. – lamp

I'm never wicked, but I do have a wick. – candle

I never get angry, but I do get hot. – stove

I'm found in the garden or even on the sidewalk, you can sit on me when you eat your lunch. – bench

You can come to me to learn and grow, in my aisles, there are lessons to know. – school

I can guard the house against strangers outside, I don't let the wrong people in, and you can visit me to find the clue you need to win! – a fence or a gate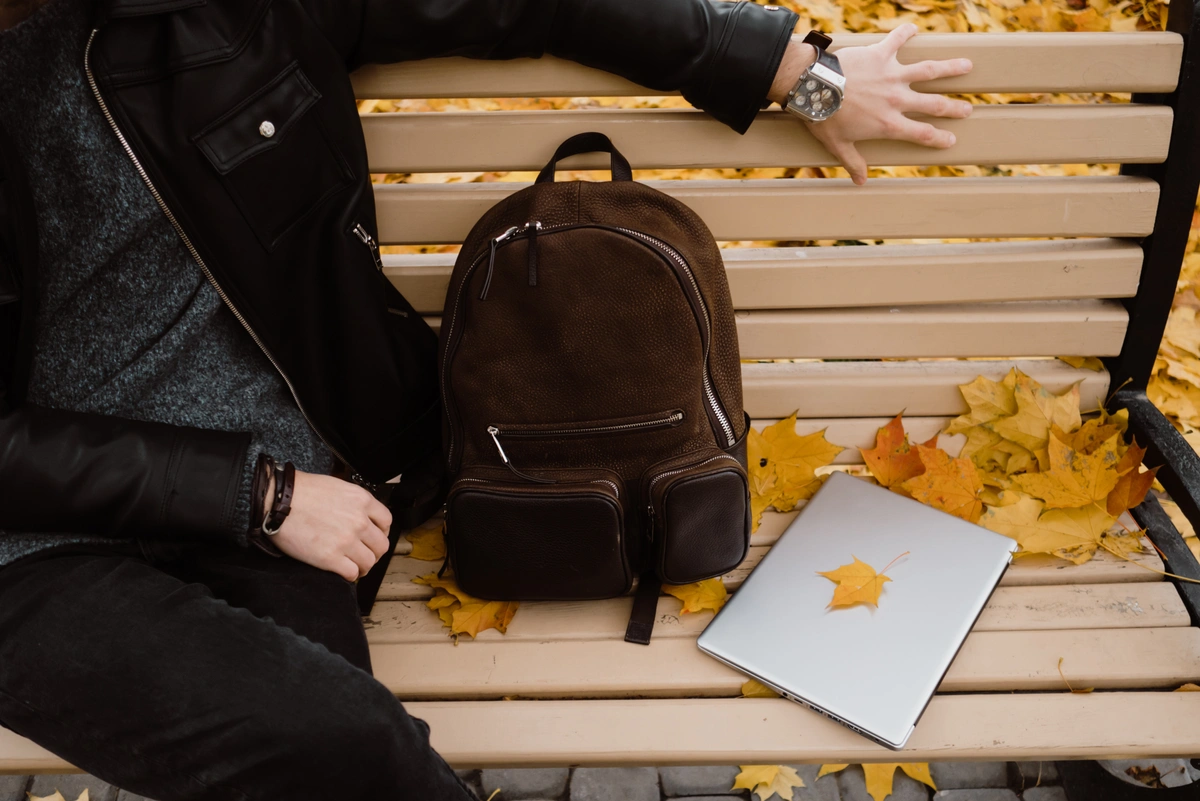 Free Fall Scavenger Hunt Printable
This free fall scavenger hunt printable (right-click to download) will allow you to plan the perfect scavenger hunt for fall.
To get started, make sure that you choose the location for your hunt carefully and that you pick a style of the hunt that is best suited for your location. You'll also want to incorporate a good mix of items for your audience to find. With that, you'll be ready to go!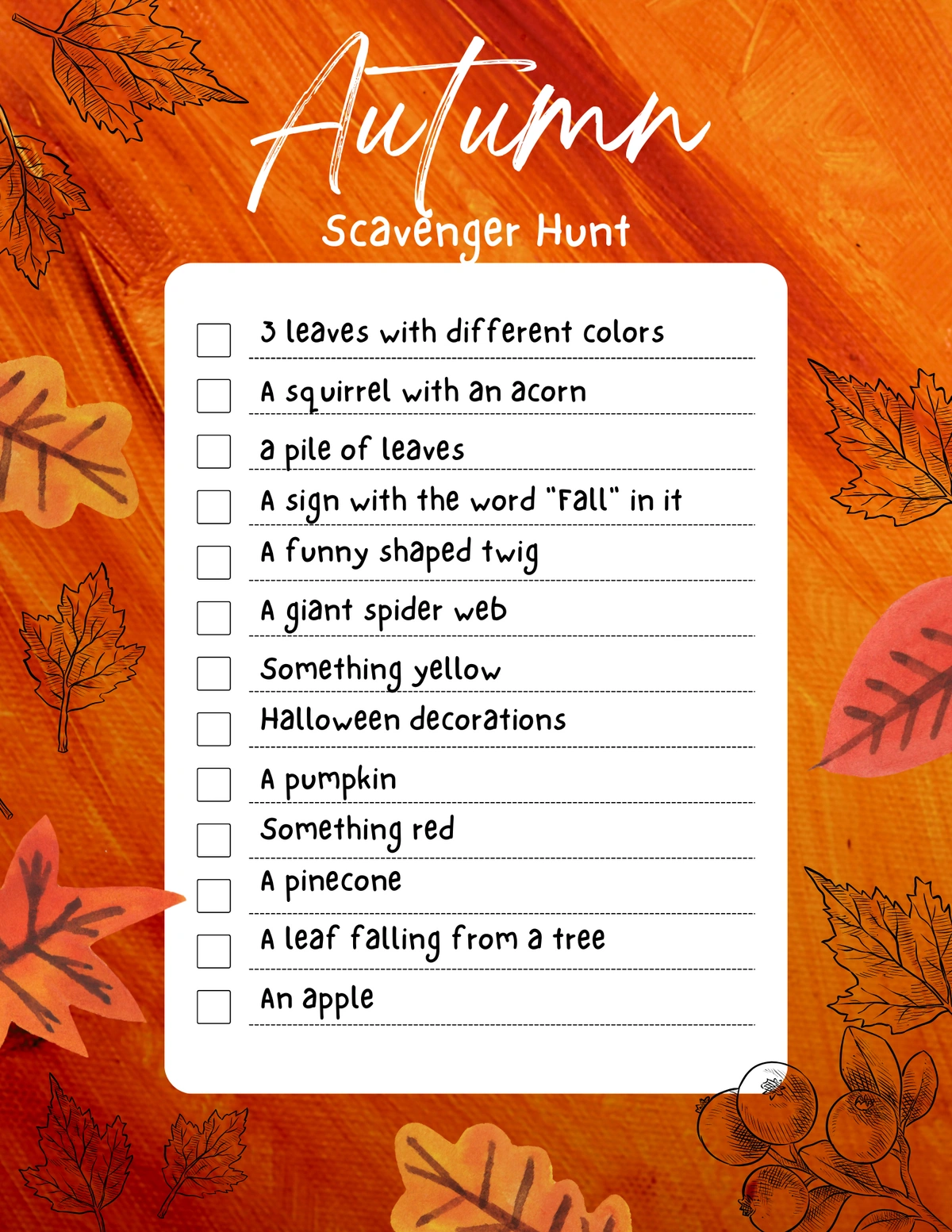 Want to Create a Fall Scavenger Hunt?
Scavify's scavenger hunt app can help you to plan the perfect fall scavenger hunt for any kind of group. The Scavify app can be used to upload photos and videos and check in with QR codes if you wish. Organizing this kind of event is easy with Scavify on your side!
Scavenger hunting can be a great way for your friends, family, coworkers, and students to get closer together and develop new skills. Scavify will allow you to plan the right scavenger hunt for your needs without any stress.