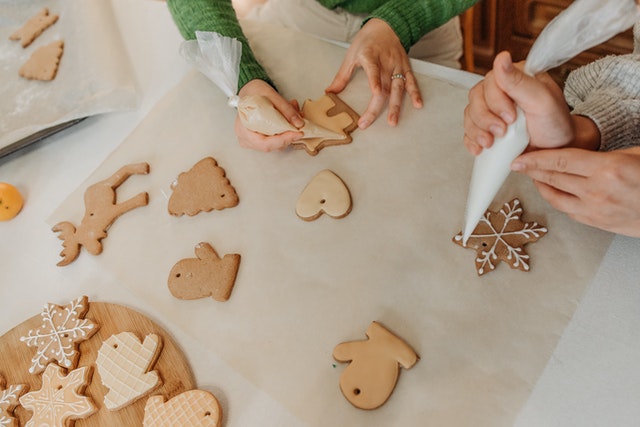 In today's hyper-competitive quest to attract and retain all-star employees, the holidays are a golden opportunity to capitalize on seasonal excitement and galvanize company culture.
Carving out some time for team togetherness is practically non-negotiable in December. While the benefits of getting your team together outside of the office and their daily routines are well known, it's not always easy to conjure up and execute the perfect activity that ticks all the boxes.
And ideas are especially difficult but also important this year.
Sure, you can always go back to the well for your classic holiday party or late afternoon happy hour. But, for those of you looking for something a little different, we wanted to provide some inspiration for alternatives to the classics. Check out our roundup below for some easy yet impactful ideas to get your team together and into the holiday spirit.
1. Virtual Christmas Cookie Tasting Tournament
The cookie exchange is a common occurrence in December, but this variation ups the ante and encourages friendly competition within your employee base: instead of simply bringing in cookies to swap and share, employees can sign up to participate in a taste-testing cookie tournament, where individual entries pair off (based on the number of participants) to find the ultimate cookie champion.
If you are working remotely, consider doing this virtually. Have everyone send out boxes of their cookies to everyone on the team (if the team is reasonably-sized of course). Then have a Zoom meeting to have everyone share the treats in real-time.
Want more complexity? Create different tournament categories (e.g., sugar cookie face-off, chocolate cookie face-off, etc.).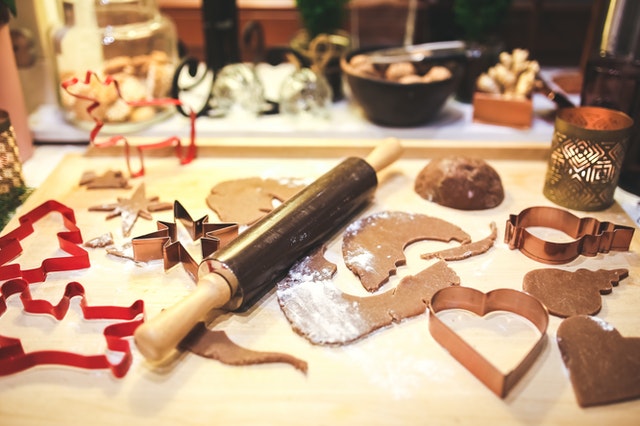 2. Holiday Object Business Plan Pitch Competition
Bring out the creativity in your office by creating a fun opportunity for teams of 3-4 to come up with a short but comprehensive business plan for how they'd want to sell their assigned holiday object.
Wrapping paper, candy canes, cookie tins - there's no shortage of quirky holiday-focused items which can be assigned to each team, and they'll get a specified period of time in which to create their pitch based on their assigned object.
Pick a day and host the competition virtually allowing people to share their screen for the presentations.
Increase the stakes by naming a fun prize, perhaps the cookie tin (filled with delicious holiday treats)!
3. Virtual or Outdoor Scavenger Hunt
Scavenger hunts are always a crowd-pleaser for holiday team building. And for good reason. They require teams to work together, create a friendly competitive vibe and can be done team, department, or company-wide.
If you do this outdoors, your team will also get a nice helping of fresh air and physical activity as they cruise around town collecting quirky photos, recording humorous videos, locating holiday objects, and answering fun, festive trivia (think: In what decade did Coca-Cola start using Santa Claus in advertisements?).
Of course, there are some low-tech ways to pull this off with pen and paper, but today there are apps like Scavify to help you organize and track everything automatically in just a few minutes.
To get started, come up with a list of holiday-related challenges for teams to complete. To ramp up the competition, reward employees with small holiday prizes for things like highest score, most creative photos/videos or first team to complete all items.

4. Share Your Recipe
While a traditional potluck is a hallmark of office life, this year it may be difficult for many organizations who are working remotely. Instead, consider having employees share their favorite recipes and tutorial.
Spice up the menu and encourage employee curiosity about other cultures with an international, holiday-themed recipe! Employees can be assigned a different country from which to source their menu item, and then everyone can eat, drink, and enjoy while expanding their global knowledge.
5. Common Denominator: Holiday Habits
This activity is great for large teams, as it facilitates conversation and can help address barriers to collaboration.
Break up the larger team into smaller groups, 2-3 people. Request that each group find a holiday habit or tradition that they all have in common. Once all the groups are done, ask them to share out to the broader team what they discovered.
At the end of the session, call out any specific surprises or ask members what they were most surprised by during the conversation.
6. Eggnog Egg Drop
Challenge your employees' engineering prowess by having them design the perfect handmade container to cushion an egg enough to survive a 2-3 story drop. Invite employees to partner up and use only excess materials in the office or a minimal budget (e.g. $2-5) to come up with the optimal materials.
Set a time limit for each team to craft their container. The take the loaded up containers outside (perhaps to your building's roof) and see which team's eggs survive the drop.
While the eggs are being dropped, provide some good old fashioned eggnog for the observers so that they can join in on the fun and get in the holiday spirit.
This can be done virtually or in-person.
7. Holiday Decorating Contest
Nothing builds teams as much as having a common enemy in some friendly competition!
Based on your in-office/operational team divisions, ask each one to decorate their team workspace in a different, holiday-focused theme. Put together a judging committee (consisting of 3-4 objective resources) to go through and evaluate for first place.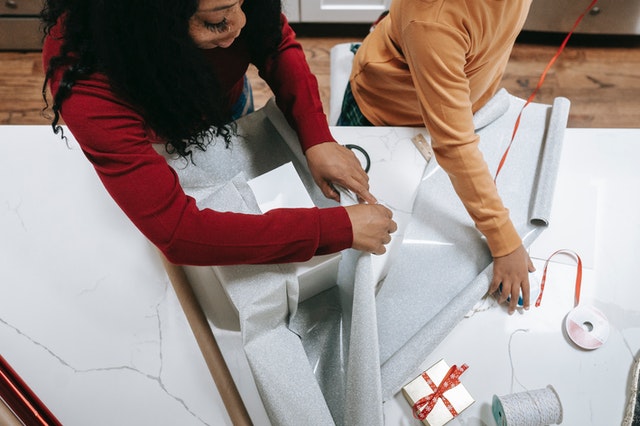 8. Holiday Who Am I?
This game has been commemorated in pop culture in a number of ways, but it remains a great way for employees to have fun while using their critical thinking skills.
Create a list of holiday-related characters (e.g., Rudolph, Santa, Crampus, Frosty, etc.) and create sticky notes with each name. Distribute the sticky notes to employees and (without looking) ask them to stick them on his/her forehead.
Leave the group free to mix and mingle with each other, as they try to give hints about the character name they see on their partner's forehead (without giving it away!).
9. Volunteering
Few things embody and amplify the holiday spirit more than giving back to your local community. Volunteering company time will leave teams feeling good about themselves and good about the company.
A quick Google search for "holiday community service near me" or using a site like https://www.volunteermatch.org can quickly help you identify some worthy projects in your area.
Food and clothing drives and local shelters can often use an extra hand during the holiday months. Organizing a local park cleanup is a relatively low-lift yet impactful way to get the team out of the office and helping the community.
10. Holiday Themed Sports
Just taking some time and getting together for your team's preferred group sport, is an excellent way to get people interacting, moving, and having fun.
Soccer, baseball, and basketball are easy, accessible sports for most. Create a holiday theme for teams, like the Santas vs. Elves or Whoville vs. the Grinches, and have team members dress up to represent their team.
For some extra fun, give out some holiday-themed prizes for best team uniforms, MVPs and overall winners.
11. Take a Team Hike
Have some good hiking trails near you? Lacing up a pair of hiking boots and packing a backpack will definitely get teams excited about getting out of the daily office routine and back to nature.
You don't need to live in the Rockies for this either. Check out https://www.alltrails.com to find some good trails near you. Or just hit your local park for a fun group walk.
Getting outside and moving will naturally make people feel good and accomplished. Reducing holiday stress, burning off that holiday ham, and casual chatting with team members are all great additional benefits to a good hike.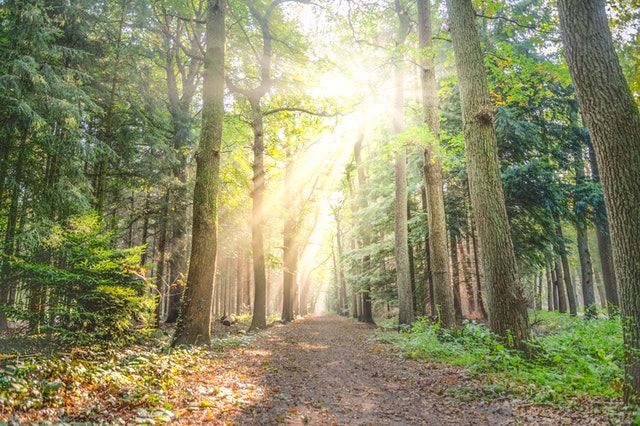 12. Get a Good Stretch with Virtual Yoga
If you're in more of an urban environment, where hiking is not an option, but want to get the team moving and feeling good, try a virtual team yoga class.
Similar to hiking, yoga can have similar benefits of pushing aside holiday stress, burning off those holiday calories and slowing the mind down at a time when people may need it most. Few things feel better than a good stretch and a good sweat. Your team will definitely thank you for it.
There are many options for finding virtual yoga classes online.
13. Calm the Mind and Unwind with Virtual Meditation
Like the idea of reducing holiday stress, but don't want to get into full exercise mode? Meditation is another great way to get out of the office or create a dedicated time for employees to calm the mind during the holidays.
Check to see if any of the virtual yoga studios offer virtual classes or can recommend virtual instructors.
There are also many great apps and websites like headspace.com and calm.com that can help you instruct your own meditation session. Teams will still benefit from a sense of togetherness as they participate in the group activity.
14. Relax with a Holiday Movie at the Drive-In Theater
Sometimes the healthiest thing for your team may be to just carve out some to relax. It's a very simple, yet great way to bring the team together and get into the holiday spirit on company time.
This year may be a little more challenging to host a holiday movie, but going to a drive-in with your employees in a socially responsible way could actually end up creating a more impactful experience.
If you don't have access to a drive-in, you can always host this virtually.
Want to go the extra mile? See if you're drive-in will host a specific movie for you and poll your team for which movie they would like to see. Check out Rotten Tomatoes list of 50 Best Christmas Movies of All Time for a list of movies to consider.
15. Outdoor Adventure to a Theme Park (Safely)
If this can done in a safe and socially distant way and your organization is lucky enough to be located where the outside thermometer stays far from the 32-degree mark, a day trip to a theme park is another great outdoor team activity.
Rides, games, prizes, food, and a disguised long walk all make this a top choice. While funnel cakes and rollercoasters may not be the epitome of healthy, the disguised long walk around the park and overload of fun will definitely help your team temporarily forget the holiday stress.
This may be tricky or down-right not feasible this year, but we figured we should mention it as an outdoor activity worth considering. Perhaps you can even rent out a local park for your employee only.
16. Virtual Fitness Challenge
While the idea of a fitness challenge can scare many people off, it shouldn't. From simple to seriously sweaty, there are many different ways to create a healthy, inclusive way to inspire and motivate fitness in your team.
For something simple, try a 10,000 step challenge. Spice up the challenge by supplying your team Fitbits as an early holiday gift so they can track their progress automatically.
If you like the idea of walking but want to get everyone walking together at the same time, try a walk-a-thon for a cause.
Feeling a bit more ambitious? You can pick up the pace with a 5k or charity run.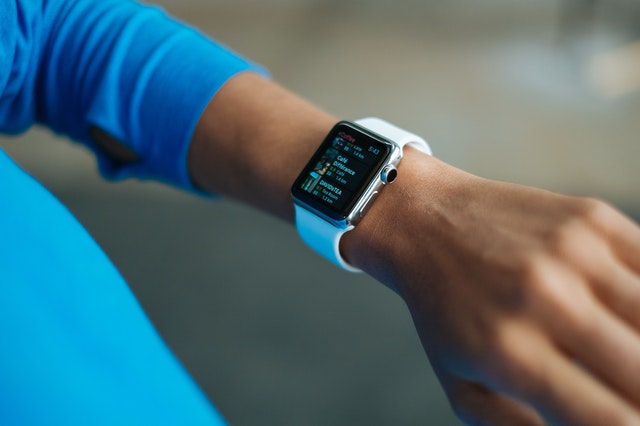 17. Virtual Cooking Class with a Healthy Chef
Being healthy is just as much about learning as it is doing. And the quest for knowledge on how to eat and cook healthy, delicious meals is endless.
For this year's holiday, food-related activity, ditch the pizza party and hire a virtual chef to teach a healthy holiday cooking class. Pan-roasted salmon, roasted butternut squash, and quinoa salad...during a work day? Yes, please.
Checkout virtual chef options like The Chef and the Dish to get started.
If people are working together in an office you can always hire a local chef to come in and teach in-person safely or outdoors.
18. Annual Awards and Peer Recognition
The winter holidays coincide nicely with the end of the year, which is a great time to reflect on the year and recognize employees for their hard work.
Take note, as this is a staple for many of the companies notorious for their highly regarded company culture.
Create a holiday award ceremony for your team that includes input, recognition, and awards for all employees. Most likely, each employee brings something unique to the team that can and should be rewarded. Find a way to shine a light on their contribution to the team and recognize them in front of their peers for a guaranteed feel-good day.
Consider getting the team together over Zoom or lunch in the office and using a slideshow as the medium to share fun photos of highlights from the year, run through award categories, and showcase customer feedback that recognizes individual or team efforts.
Dial up the interaction by having employees get involved in the nomination and presentation of awards.
19. Virtual Wine Tasting
Yes, this exists...and actually sounds pretty great.
Wine or food tasting activities cheer up everyone and could be a good compliment to the festive mode.
Check out Food & Wine's 15 Best Virtual Wine Tastings to Enjoy from Home Right Now.
20. Secret Santa
And last, but not least, Secret Santa is probably one of the most common holiday traditions and indirect team building activities across the globe. But, it remains successful for a reason. It represents the giving spirit and nurtures new and existing relationships.
Moreover, this is a great activity for many different sized organizations. Remember to set clear guidelines and set a fixed budget that your employees can easily stick to.