Scavenger hunts (or treasure hunts as they are also commonly referred) are a tried and true team building activity known for producing fun and high levels of interaction.
However, while the concept of a scavenger hunt has been around for centuries (literally), the pen and paper variety for generations past is rapidly disappearing into the rear view mirror thanks to technology and the proliferation of smartphones.
Today we discuss everything you need to know about scavenger hunt apps.
Which are the best scavenger hunt apps? Which ones are best suited for your particular audience - team building, adults, kids, professional events, city exploration, virtual and remote, and more.
First, let's get started with a few basics.
What is a scavenger hunt?
First, what is a scavenger hunt?
A scavenger hunt (or treasure hunt) is an organized game or activity where participants seek out a list of specific items prepared in advance.
The goal is typically to find the most item, accumulate the most points, or finish the hunt first.
Traditionally, small groups will work together as a team or individuals will set out to complete the list of items.
In order to complete the list of items, participants usually have to either physically gather or show proof of finding the items (e.g. by submitting photos, video, etc.).
It's very common for the list to be made up of riddles and challenges that go beyond simply finding a basic item.
For instance, rather than saying, "Find a shoe" the item on the list might say "What comes in pairs, is a garment you often wear and provides protection from terra firma?"
Furthermore, a lot of the fun and interaction is derived from having participants complete "challenges" that put individuals or teams outside their comfort zone.
For example, "Have a team member perform a random act of kindness in public." Challenges like these create a level of excitement and courage that can create a real sense of team camaraderie and enthusiasm through the experience.
In most instances, the list of items has varying levels of difficulty with different point values associated with each item to signify the level of difficulty.
Since most scavenger hunts have time limits, the varying levels of difficulty offer teams and individuals options to embark on different strategies. One might start with the easiest items first for quick momentum, while others may opt for the more difficult ones to accumulate the most points early on in the event that not all items can be found during the hunt.
Leaderboards or scorekeeping is another common feature of scavenger hunts that show participants end results or real-time performance.
At the conclusion of the scavenger hunt, there is often a ceremony to award the winners with prizes.
What is a scavenger hunt app?
Let me guess, there's an app for that? Correct.
A scavenger hunt app digitizes and automates the scavenger hunt experience into a virtual or multimedia experience using smartphone apps.
Historically, participants were given a paper checklist of items to find and tick off by hand. As cameras become more popular, the idea of submitting photos as evidence became the norm for most scavenger hunts. First, it was film cameras, then disposable Kodak cameras, and then on to digital and video cameras.
Shortly after the iPhone was introduced in 2007, mobile app developers found seemingly endless ways to harness the power of smartphones into all sorts of useful applications. This included scavenger hunts.
Rather than have the scavenger hunt organizer print out lists on paper, organize teams in one physical location, sift through hundreds of submissions and tally up scores at the end, the introduction of scavenger hunt apps removed all of that leg work in one fell swoop.
Smartphones also enhanced scavenger hunts tremendously as developers harnessed all of the built-in functionality like taking photos and videos, using GPS, QR code scanning, push notifications, and so much more.
How do you create an online scavenger hunt?
Okay so you see how much better an app-based or online scavenger hunt is going to be and now you're ready to create your own. Where to start?
Well, first, you'll want to find a scavenger hunt app or platform that allows you to build your own hunt online and launch it for participants to play.
We do a full rundown of your scavenger hunt app and platforms below.
After you have your platform selected, you typically just need to create your list of items for hunters to find, set some dates and times, configure any customizable options, and launch. It really is that easy.
Most of the setup time is related to coming up with a list of items, though most platforms and scavenger hunt app companies have pre-packaged or turn-key list options available if you want to bypass that portion of the setup.
Now, let's check out your options for scavenger hunt apps.
The List of Absolute Best Scavenger Hunt Apps
The complete list of hand-picked scavenger hunt apps
1. Scavify
Highly customizable, interactive, and polished scavenger hunt app for corporate team building, events, and other professional-grade activations
Scavify's combination of professional-looking user interface, easy (yet robust) user experience, variety of item/submission/challenge types, customization options, and customer reputation make it a clear leader in the scavenger hunt app space.
You can mix and match photo challenges, video challenges, question and answer items, QR code scanning items, GPS check-ins, quiz questions, survey questions, and more to create an experience that really harnesses the power of your smartphone into one awesome experience for your group.
The Scavify app handles and verifies the submissions related to each item, automates the scoring and point tallying, and provides a real-time leaderboard for participants and/or hunt administrators to follow the progress of each hunter.
Customizable options include adding logos to your hunt for branding purposes, delivering push notifications for participants throughout the hunt, a fully custom list of items for your hunt, and so much more.
Hunt creators and admins simply log in via Scavify to access a dashboard for building out their hunt as well as monitoring the progress after it's launched. Admins can see leaderboards, all submissions, and even make changes in real-time if they want.
Check out Scavify's scavenger hunt app to learn more.
Best for:
Team building activities

Company events

Employee engagement programs

New hire orientation and onboarding

Tourist destinations

Virtual and remote activities

Groups of 2 to 10,000+
Why People Love it:
Great design of user interface and experience

Trusted by over 10,000 customers, including many Fortune 500 companies

Reliability; Scavify boasts 99.9% uptime

Most "challenge" types available, including photo, video, QR code, GPS, Q&A, quiz, survey, and multiple choice

Web browser version for those who don't have smartphones
What Else You Should Know:
Price: Varies, but competitive and a great value option. Reach out for a quick online quote.
Links:
Summary: If you're looking for a professional, polished, and highly interactive experience trusted by tons of people and companies, including many Fortune 500 companies, Scavify is your go-to scavenger hunt app.
2. LetsRoam
City-based scavenger hunts designed to help you explore your area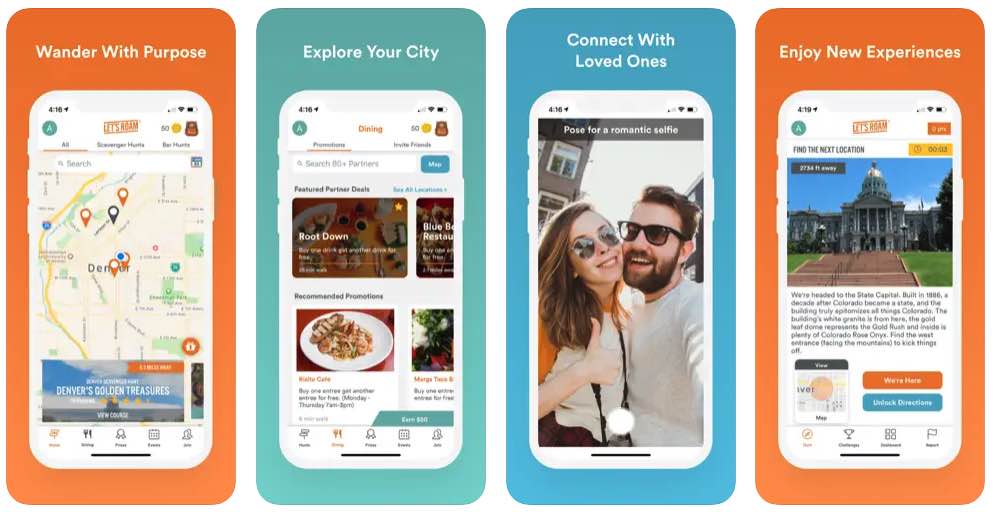 LetsRoam is a relatively new app on the scavenger hunt scene. Known mainly for their city-based scavenger hunts for individuals to follow, LetsRoam also caters to a variety of other experiences, including bar crawls, date night packages, virtual escape rooms, virtual murder mystery, bachelorette and birthday parties, and more.
They have created experiences in over 400 cities around the world for people to enjoy and use as an interactive guide. For example, you can join their "Denver Scavenger Hunt: Denver's Golden Treasures" which invites you to explore the art, culture, and history of Denver.
To get started exploring a city near you, visit their list of locations and get your tickets from their online store. Single hunt tickets start at $12.99 which allows you to play one of any of their 400+ city hunts. Once you have purchased your ticket you can then download the LetsRoam app and redeem your voucher to begin playing.
If you prefer to create a custom experience rather than follow one of their city-based experiences, you can build out your list of items and tweak other settings using their online builder.
Best for:
Exploring cities

Individual and small groups

Other interactive experiences, including a virtual murder mystery, date nights, bar crawls, etc.
What Else You Should Know:
Price: $12.99 per person for a single hunt; other options are available for a monthly membership and their different experiences.
Links:
Summary: Good option for exploring the culture and history of various cities around the world.
3. GooseChase
Quality user interface serving the K-12 and professional audiences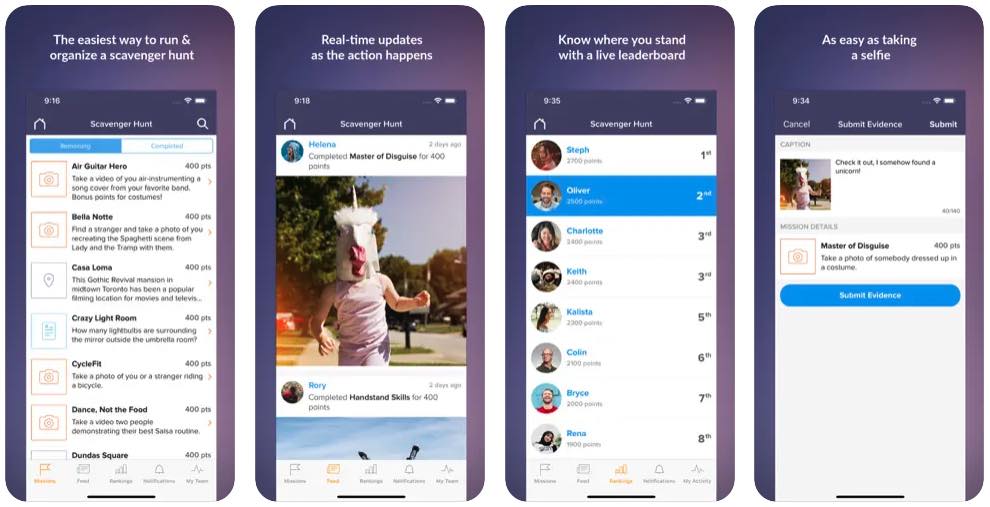 Goosechase is a Canadian-based scavenger hunt app that features a do-it-yourself platform for building out customized scavenger hunts. The iOS and Android apps have a clean user interface for intuitive gameplay which keeps Goosechase in the upper ranks of scavenger hunt app options.
The app includes many of the standard features you will find in the better scavenger hunt apps, including custom item lists, a leaderboard, and automatic scoring.
Goosechase has a special focus on K-12 experiences for younger students along with discounted educational pricing if that is your participant audience.
They also offer a free version for up to 3 people.
The platform also offers a "mission bank" to help kick start your hunt though keep in mind there is a limited variety of different challenge types. If you're looking for a good option with a clean user interface take a look at Goosechase.
Best for:
K-12

Corporate events

Team building
What Else You Should Know:
Free version available (for up to 3 people)

Educational pricing available

Limited to photos, videos, and Q&A challenges
Price: Varies based on the size. Contact for pricing details.
Links:
Summary: Good user interface allowing for a smooth scavenger hunt experience. If you are an educator in the K-12 space, definitely check out Goosechase.
4. Actionbound
A good option for free, personal use scavenger hunts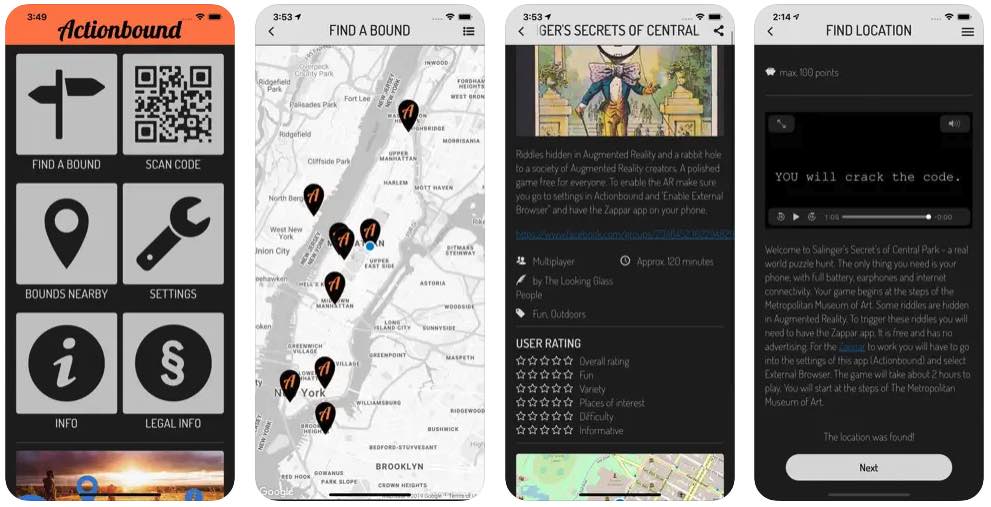 This German-based mobile app company has created a platform for building your own hunts (or "bounds" as they refer to them). While most of the scavenger hunt apps listed operate and run hunts all over the world, Actionbound seems to focus most of its efforts on the European market.
You can quickly sign up and start creating your own scavenger hunt through their website. They even offer a free plan, making it ideal for individuals.
Actionbound started out in the education field as an education project but has since grown beyond the walls of strictly learning environments. They also offer personal and professional versions that host a variety of features. They also offer "public bounds" which are hunts created by individuals and made publicly available for others to play.
The user interface and experience in both the app and website builder is more basic in nature, but if you're an individual looking to create something quick and free this is a great option.
Best for:
K-12

Personal and individual use

Smaller professional uses
What Else You Should Know:
Free version available

Individuals can create publicly available hunts for others to play

More basic user interface

German-based company
Price: Varies on the size of the scavenger hunt. Contact or pricing details.
Links:
Summary: Great for personal (free) and educational uses.
5. Geocaching
Great app for geocaching enthusiasts and locating "geocaches" outdoors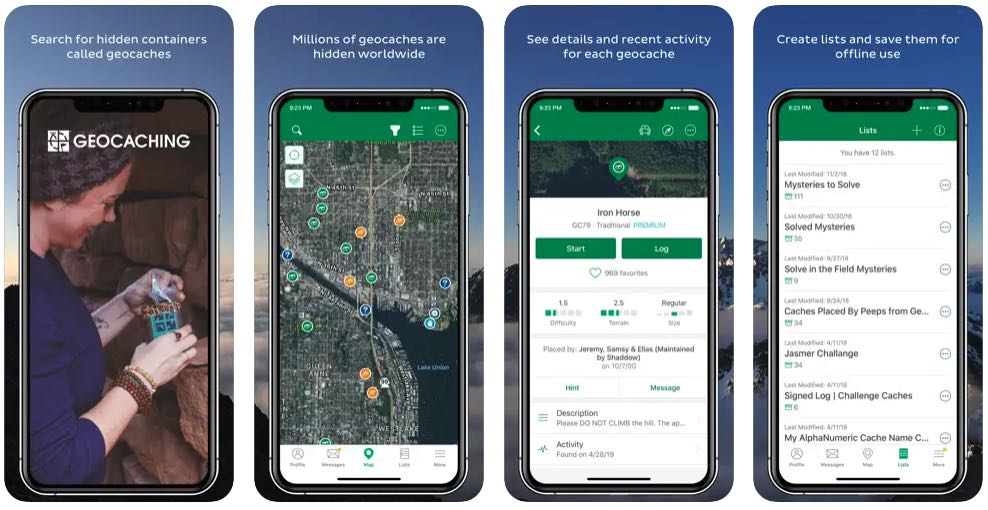 Geocaching is a derivative of the traditional scavenger hunt but has a cult-like following of enthusiasts. It's an activity mainly based outdoors and consists of using GPS to locate "geocaches" which are typically smaller, hidden containers that house a log book for hunters to record their findings of the location.
Geocache containers sometimes have small (often funny or quirky) items inside for the next person to find and either keep, swap, or simply view.
When it comes to digitizing the experience into an app, Geocaching.com is the leader in this activity. It bills itself as the world's largest treasure hunt.
You can quickly and easily download the Geocaching app for iOS or Android and get started finding geocaches in your area right away. You can also learn more about geocaching on their site, including how to hide your own geocache for others to find. They even have an online store where you can buy geocache containers and other gear for getting the most out of your geocache experience.
Best for:
What Else You Should Know:
Free

Very enthusiastic community

Different than most other traditional scavenger hunt apps in the list
Price: Free
Links:
Summary: If you're looking to get into finding geocaches hidden around the world this is the best app for that.
6. AdventureHunt
Uncover treasure in your city with this treasure hunt app for teams of 2-4 people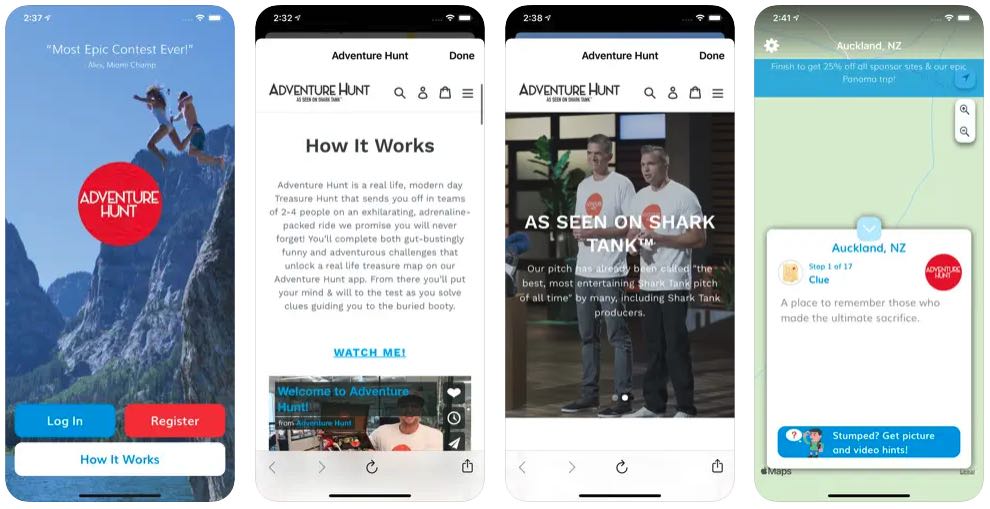 AdventureHunt got its debut by being featured on SharkTank and quickly gained popularity from there. AdventureHunt's games are played in teams of 2-4 people with each team accumulating points by posting their submissions to their public Instagram story.
Challenges are designed around city-specific clues that lead you from one place to another ultimately culminating at the final point which contains the "treasure". Different level prizes are found in the treasure depending on the experience.
The AdventureHunt company suggests preparing for your hunt day by bringing things like a phone charger, water bottle, quick modes of transportation (e.g. car, scooter, etc.), snacks, swimsuit and towel (!), and of course a fun attitude.
Teams generally seek out 10 to 25 different stops along the way.
AdventureHunt offers several pre-made scavenger hunts in major cities in the USA, Canada, Australia, and New Zealand.
The user interface is simple yet clean and effective for leading teams to the final treasure.
Best for:
What Else You Should Know:
Submissions are made via public Instagram stories only

Pre-made scavenger hunts in major cities are available
Price: Varies. Contact for details or check out pricing for the pre-made scavenger hunts.
Links:
Summary: If you're looking to explore a city in teams of 2-4 and are OK with submissions taking place via Instagram stories, this treasure hunt experience is definitely worth a look.
7. TwoDots
Free puzzle game with a Tetris-meets-treasure-hunts feel for individuals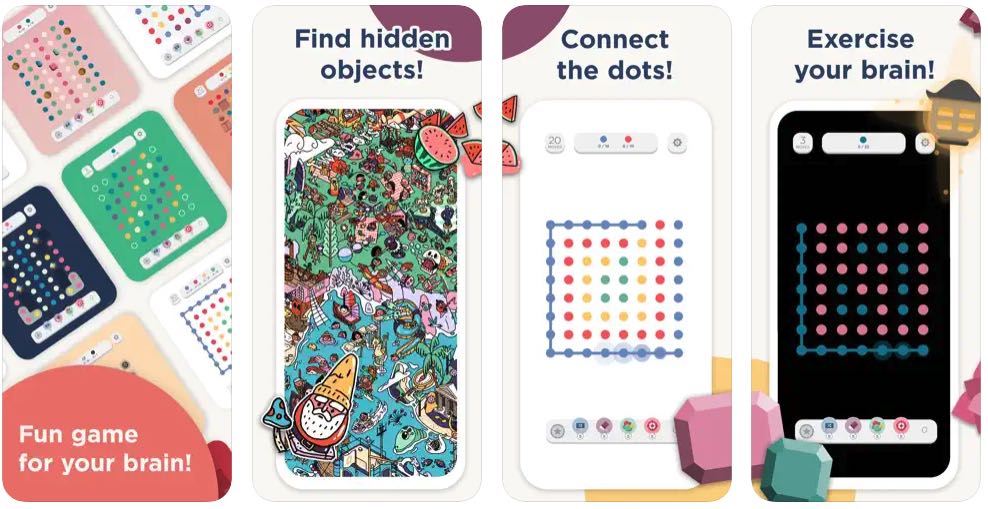 TwoDots is the sequel to Betaworks' Dots app and is a bit different from many of the other traditional scavenger hunt apps listed here. Rather than a traditional list of items, TwoDots features a single-player game for mobile apps that has a bit of a Tetris vibe where you connect dots on the screen to advance the game.
Connecting dots together is the goal to open up treasure chests that can offer up rewards and badges.
TwoDots also features weekly treasure hunts where players can compete against each other and see how they stack up against each other. Winners get badges and medallions for bragging rights.
While this is promoted as a treasure hunt it is definitely a bit different in nature and more of a mobile game akin to Candy Crush, FarmVille, Tetris, etc.
That being said, the user interface is beautifully designed and is a great game to play to pass the time.
Best for:
Individuals and single players

People looking for a mobile game
What Else You Should Know:
Not a traditional scavenger hunt or treasure hunt

Participants do not complete lists of items, but rather they connect dots on the screen
Price: Free
Links:
Summary: If you're looking for a beautifully designed, free game to play solo that unlocks treasure during the gameplay, this is an excellent option.
8. Google Experiment's "Emoji Scavenger Hunt"
A free game for finding real-world versions of popular emojis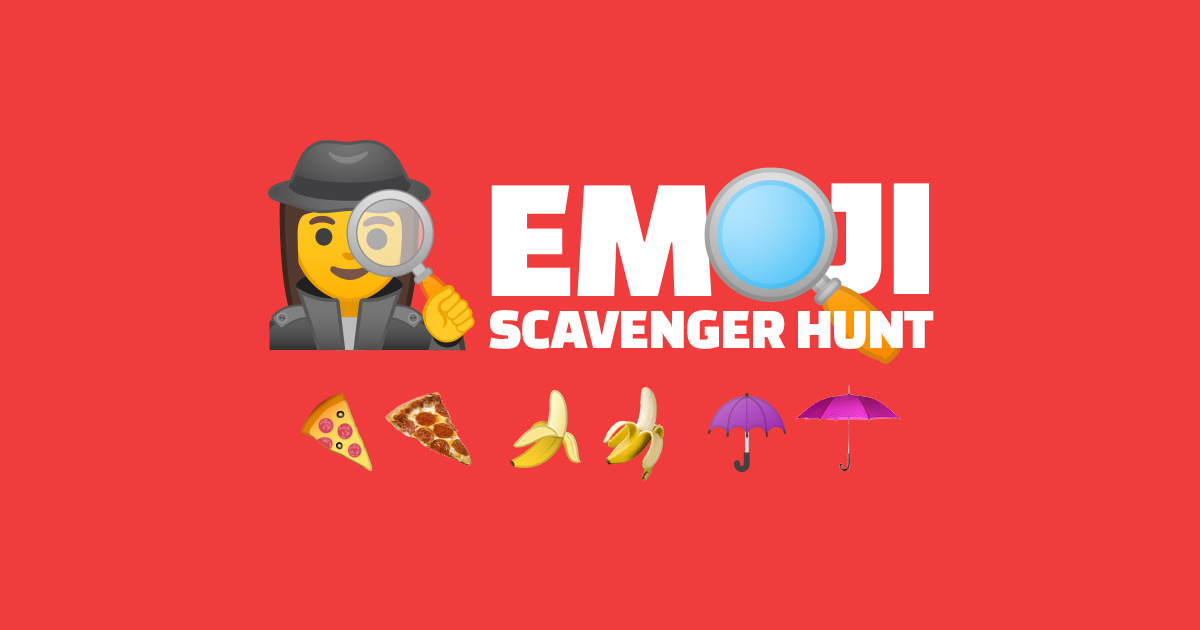 Another solo player scavenger hunt app that's worth mentioning is the Emoji Scavenger Hunt, which is a product of Experiments with Google.
One thing to note quickly: Google did not create this.
Rather, it is a result of "Experiments with Google" which is a collection of projects that showcase the possibilities of building applications with TensorFlow (a specific coding language). Since 2009, developers have built some amazing experiments using Android, AI, AR, and more to show off the capabilities of the TensorFlow development language.
The Emoji Scavenger Hunt is exactly what it sounds like: an app for finding real-world versions of emoji objects.
The app gives you a set amount of time to find the real-world version of the object displayed on the screen. So for instance, you might have 10 seconds to find a banana.
People can play right through their browser after allowing camera access, making it an easy game to pick up and go.
Best for:
Individuals and single players

People looking to make a game out of finding real-world versions of emojis
What Else You Should Know:
For solo individual players only

Players are given an emoji one at a time to find

Fairly limited experience
Price: Free
Links:
Summary: If you're looking for a quick game to pick up and play by yourself, this fun app is easy to get started and play directly through a mobile or desktop browser.
9. Scavengar
Augmented Reality meets scavenger hunts
If you didn't pick up on the intentional misspelling, we wouldn't blame you, but the last 2 letters of this app's name, "AR", say it all.
Scavengar is an Augmented Reality (AR) based mobile app.
The platform allows you to run 2D experiences into 3D interactive Augmented Reality experiences by setting up 3D objects and tying them to specific locations for people to find.
This means that if you ever wanted to bring your content (art, photos, doodles, etc.) to places like Time Square, you can now do so. Simply create your object, add a geo-location or geo-fence and make them accessible for other participants to find and check out.
If you are into AR and want to share your content and connect with other AR community enthusiasts, this app should be on your list to take a look at.
Best for:
What Else You Should Know:
iOS app only

May be a bit difficult unless you are familiar with AR

Great for sharing your own creative content virtually
Price: Free
Links:
Summary: If you're looking to explore the world through the lens of Augmented Reality and would like to share your own creative content (photos, art, etc.) in a virtual world for others to find, take a look at this app.
Which scavenger hunt app is the best for me?
Now that we have covered many of the basics and run through our handpicked list of the best scavenger hunt apps, we can quickly point a few things to keep in mind as you hone in on the best scavenger hunt app for you and your needs.
As you assess which app would work best for you, a few things to keep in mind are:
1. Type of experience: Professional use, personal use, or free game?
What type of experience are you looking for? This will quickly dictate which apps will work best for you. Two quick buckets these apps fall into are professional experiences for team building, students, employees, tourist destinations, events, etc. VS. personal use and free games that individuals can play on their own but still based around finding objects.
For professional experiences, look at apps like Scavify. For small groups and personal uses, look at LetsRoam. For free games, look at Geocaching and TwoDots.
2. Traditional scavenger hunt or something different?
Traditional scavenger hunts generally are organized around a list of items for teams and individuals to find in a set period of time. Points, leaderboards, winners, and fun ways to submit challenges (photo, video, QR code, quiz, etc.) are at the core.
Non-traditional derivatives include geocaching, Augmented Reality games, and others.
For traditional scavenger hunt apps, look at Scavify, LetsRoam, and Goosechase.
For non-traditional scavenger hunt apps, look at Geocaching and Scavenger.
3. Multi-player/teams or single-player?
Some apps are designed for teams, individuals, and large groups. Other apps are designed for single-player or solo adventure use.
For multi-player experiences, look at Scavify, LetsRoam, and Goosechase.
For single-player experience look at Geocaching, TwoDots, and Emoji Scavenger Hunt.
What should I look for in a scavenger hunt app?
Okay, so you want to organize a scavenger hunt for a group of people and you don't want it to flop?
Here are a couple of things you should look out for (ESPECIALLY if you are planning a professional experience for things like team building activities, students, employees, tourism destinations, etc.)
1. Different Challenge Submission Types (Photos, Videos, QR codes, GPS, Q&A, etc.)
More variety typically equates to a more interactive experience. Some apps are limited to photo-only submissions, others have photo and text based submission options, while the best have multiple challenges and submission types.
The best scavenger hunt apps will allow for a mix of ALL of the following:
Photos

Videos

Q&A

Quizzes

Surveys

GPS

QR codes
2. Customization
Each scavenger hunt typically has some level of uniqueness to it that requires flexibility from the standard template.
The best apps will allow for customization that results in a tailored experience. A few things you may want to be able to customize:
Start and end times

Custom items and challenges

Custom rewards

Logos and branding options

Point values for items
3. Uptime and Stability
This is an often-overlooked criterion, but is one of the most important, especially if you are hosting a professional-level experience for employees, events, etc.
Make sure your app mentions their technology uptime. The last thing you want is to spend lots of time and money organizing the perfect event but having chosen the wrong platform to host it on.
4. User-friendly Interface
Simplicity, good design, ease of use, and flow are critical to your participant's (and your experiences) success. The app should be intuitive (yet robust). Remember, participants will be picking up the app for the first time in many instances and you will want them to get off and running without having questions about how to work the app.
5. Multiple Platform Options
Is the app available for iOS, Android, and/or mobile browsers? The best apps will be accessible by all 3.
6. Pricing
Free can be great, but you often get what you pay for in this space just like most other things. Which app is best for you will depend on the quality of experience you are looking to create. Free games are generally not the best for professional experiences. Conversely, the platforms hosting professional-grade experiences are usually not the best for personal use.
7. Customer Reputation
The best indicator is the list of companies that have used the platform and their associated testimonials. Apps and platforms that have been around for a long time and hosted thousands of experiences for thousands of players at Fortune 500 companies are the clear leaders when it comes to experience and reputation working with clients and professional quality experiences.
Conclusion
There are numerous wonderfully designed scavenger hunt apps available these days. Which one is right for you will depend on your goals. We have featured the best ones out there and covered a variety of experiences they can create from traditional scavenger hunts, professional experiences, free options, Augmented Reality, and more.
Simply poke around the ones that fit your audience best, get a demo or try them out, and get ready for some serious fun!
More Great Resources for Scavenger Hunts
A list of scavenger hunt clues, items, and ideas to consider when building out your scavenger hunt in an app.
Lists and ideas catered specifically to events and experiences attended by adults. In other words, no cutesie kid stuff.
If you're looking to host a virtual scavenger hunt, this article covers a lot of things to consider, including a great starting point for your list of items.
Photo and video challenges are a staple of a great scavenger hunt. This resource includes a ton of great photo challenges for your next scavenger hunt.
Looking to organize a scavenger hunt for your employees? Check out this list of ideas to consider in the workplace.
There is no better way to capture the fun than through video challenges. Get a jumping-off point with this great list of video scavenger hunt items to find.
QR codes are a great addition to any digital scavenger hunt. Since QR code readers are built into most smartphones you can quickly harness the fun and power of them using this guide as a resource on how to get started